The Scandinavian bath, some call it the hot bath, the Norwegian bath, the Scandinavian bath, the hot tub, the Swedish bath, the name changes but the product remains the same one.
To know, a bucket of wood with a heating with wood! here is more the simple expression of the Scandinavian bath! No electricity, not of filtration, the water of the wood bath is heated only by one immersed wood stove or an external boiler with wood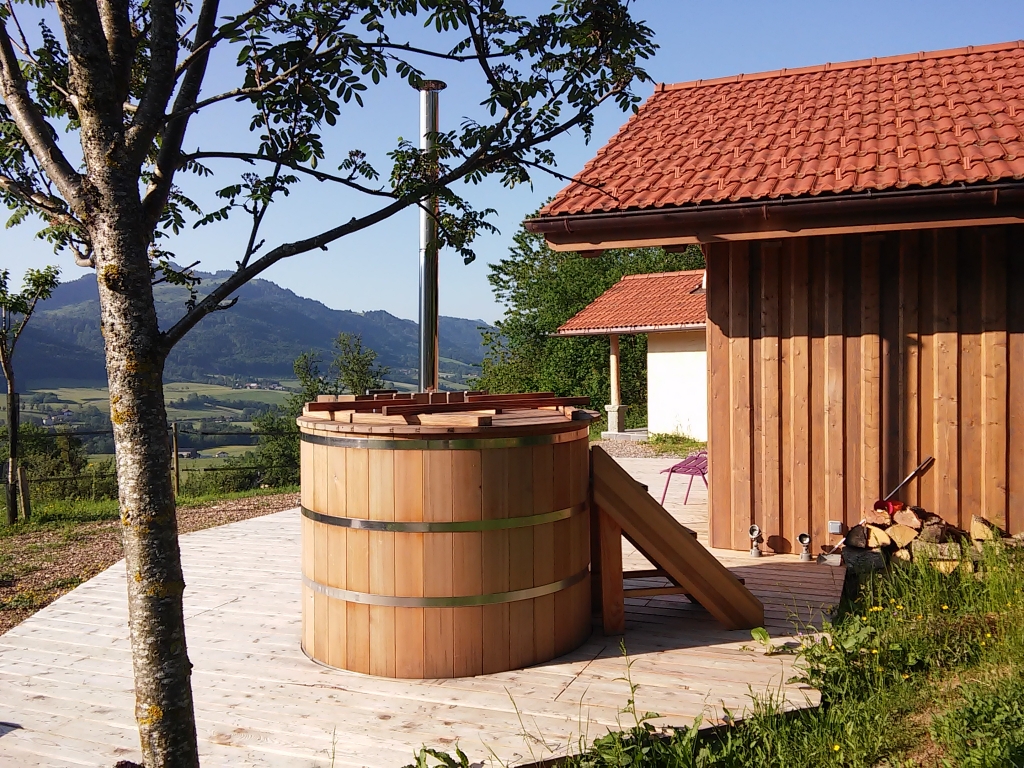 The Scandinavian bath is a means of single and exceptional relaxation. Imagine in a fog of wood scent of cedar, your body is plunged in a water with close to 40° whereas the outside temperature is below 0°…
Whaou, it snows, it is not serious one is well… Assured feelings!
Our Scandinavian bath wood with heating with immersed wood is manufactured in massive western red cedar of top quality. Long wood without node, resin, defect and dried for stability.
Our Scandinavian baths are designed to accommodate from 3 to 9 people, two powers of heating available, a barrier in angle design which makes it possible to have more room inside, delivered with splendid staircase 3 steps in massive cedar and lid out of wooden into two or three parts with Japanese handles, gravitating emptying with external access, protection of the stove with a plate stainless to cut out with the laser.
The emptying of ashes is done easily using a stainless shovel.
The water which is in a barrel out of wooden, is preserved marvelously well. An exchange is created between the interior and outside what makes it possible to preserve water. Contrary to a plastic can, where water turns quickly.
Possibility of supplementing the Scandinavian bath with a filtration, a Uvc lamp, a small heater, a spot, a shelf to put back the bottle and glasses, tubes of massage, a handrail on the staircase to facilitate the access to the Scandinavian bath…
Since we manufacture them in our workshops, we can personalize your Scandinavian bath. The diameter and the height inside can be modified. Consult us!
We developed a range of Scandinavian bath Alpe.
It is a bath which thus makes 90 cm external height low than our model Premium headlight which makes him 122 cm!
– The barrier is right instead of being in angle
– Draining is done by the interior of the bucket
– A footboard instead of a staircase three steps
– The benches are located at 20 cm of the bottom instead of 45 cm
– There is three strip iron stainless instead of four
– The stove is same 20 kw *
* Attention with this concept of power in kilowatts.
On Internet you will find stoves smaller than ours in dimension but with larger powers given! what is not possible! because the power of these stoves immersed out of aluminium marine is calculated with the surface of contact with water!
Thus more the stove is small cuts some less it is powerful. Logic to see our boilers any stainless