The Japanese bath also called ofuro is a bath-tub in Hinoki (Japanese cedar).
In the everyday usage, the Japanese baths are filled with warm water and are used to heat those which are plunged there. Some customers order us to fill them of cool water!
The one or the ones that lived or just remained in Japan, knows the Japanese wood bath!
And yes all Japanese has one in their apartment of them or in their house and those which do not have any yet dream to have one of them!
Our range of Japanese baths out of wood settles inside or outside.
Our Japanese bath standards are manufactured in two diameters, 120 cm and 150 cm for better adapting to the space and the number of practitioners.
Wood is western red cedar 1st choice, without nodes, resin, without defects, long wood and dried for a great stability.
Sawn timber thickness 40 mm of form curved to give a better sealing, a softer line which improves the aestheticism largely.
The interior height of our Japanese baths is of 60 cm, the external height is of 76 cm.
They are equipped in series with a plug hansegrohe made  of chrome plated brass  .
Watch out : there is no overfull
All our ofuros has the feet cut out for a better stability and has a reinforcement located under the bottom at the center.
In option:
– a lid in red cedar in two parts
– we can also put two pass-walls to connect a small boiler to wood, or a turntable with a circulating pump and an electric heater.
– a bench to be put inside
– a staircase of access
We can also make you a ofuro overmeasure, contact us!
For example this one with a diameter external of 80 cm, a height outside of 90 cm and is delivered with a staircase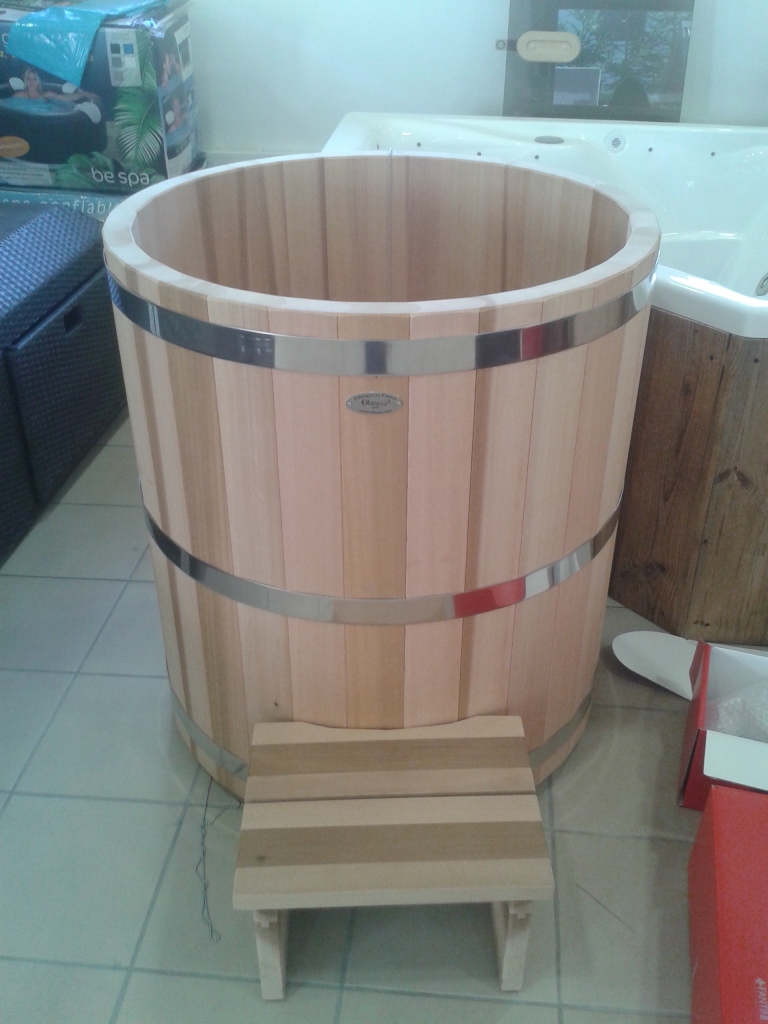 In the Japanese wood baths, there are those which are circular forms but there are also those which are rectangular or square.
For example, that Ci makes 180 cm length, 120 cm broad and 60cm top.
The interior is oiled, I ballast equipped with a central plug click crack and 4 slopes for the drainage.
It has two files in T.